FOR IMMEDIATE RELEASE
Synaptop™ Theatre lets you watch movies with your friends online, in real-time
TORONTO, April 28, 2011 — Synaptop (www.synaptop.com) announced the release of Synaptop™ Theatre, an exciting new application that lets people watch videos together, in real-time.
Synaptop™, which launched earlier this month, is a virtual online computer that runs on the cloud. On Synaptop™, you can store files and run apps, and what's more, you can follow or be followed by friends in any application!
Synaptop's Theatre, a free app on Synappstore™, allows synchronized viewing of videos so your followers can watch movies with you in real-time. As you play a video, you can change channels, pause, rewind, or even fast-forward and your followers see the same thing as you do. You can also engage in a video or text chat with friends while watching movies together, or collaborate in other applications, all at the same time.
Inviting friends to follow you on a movie on Synaptop is easy. Invited friends can start watching videos with you with a single click. Synaptop's Theatre also lets you organize videos you watch on the internet and comes with a very intuitive interface. You can even save your favourite videos, to watch them again later.
"We wanted to bring the experience of watching movies with friends in a theater to the web", Sami Siddique, President and CEO, Synaptop™ speaks of Synaptop's Theater. "I like to watch videos with friends even if they are not physically present with me. The experience of being able to laugh together as you watch a video on Synaptop is priceless and something definitely worth trying", adds Siddique.
Synaptop™ can be accessed from any internet browser on any device. Best of all, Synaptop™ is free! You can use Synaptop Theatre to watch videos from your computer-connected living room TV.
Synaptop™ is different from traditional screen sharing software as it does not require you to download software and it gives you full control over content and privacy. Moreover, on Synaptop™, you can share different resources with different people at the same time and still continue to work on other apps and use your virtual computer. You can share files and applications, with others, while maintaining privacy on documents you wish to keep to yourself, and even work on many different applications at the same time, with different users.
The combination of Synaptop's Theatre and SynapShow™ offers businesses and marketing professionals an exciting new platform for engaging their customers. A click of a button prompts your fans on social networks to come and watch videos with you on Synaptop's Theatre.
Synaptop™ is a consumer-facing, accessible operating system for the cloud. Synaptop brings collaboration to consumers and businesses. It features patent-pending collaboration technologies that go beyond the current trends. It offers a unified communication platform. Synaptop brings together the usability, control, security, reliability that you get with your personal computer and combines it with everything you love about the web.
Synaptop™ can be accessed at http://www.synaptop.com
About Synaptop™
Synaptop's mission is to provide leading-edge solutions to help people interact seamlessly and to use technology effortlessly for work, study, and play. Synaptop is reshaping the planet's digital landscape, deleting digital borders, and changing the way people interact online and offline.
Synaptop is located at http://www.synaptop.com
For more information, contact:
Gloria Bairos
Synaptop
+1 650-603-0069
press@synaptop.com

IMAGES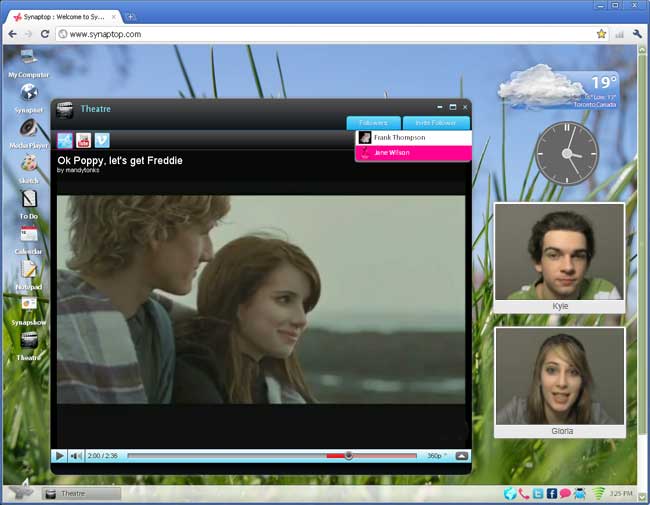 Freinds watching a movie together on Synaptop while video chatting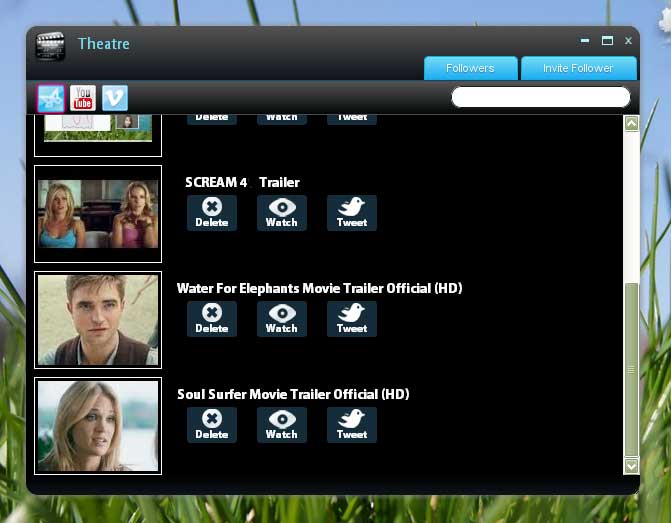 Screenshot of Synaptop™ Theatre showing how videos can be organized and shared