Synaptop for Meetings and Collaboration
---
Synaptop provides a unified platform for communication. Use Synaptop for:
Audio, video, and text communication.
Video conference with your contacts. Sketch out our sales plans. Carry face-to-face conversations virtually. It's like being there with your colleagues. With Synaptop, there are no more distance barriers.
Storing, accessing, and sharing files, securely!
Not only can you store all of your files and documents on Synaptop and access them from anywhere, but you can also edit them or even create them on Synaptop. We understand corporate security, confidentiality, and privacy needs. Synaptop provides secure access to files on your server.
Working on apps collaboratively.
You can add colleagues to help create documents with you, and use the power of collaboration to make your next presentation the best it can be. Synaptop has all your favorite applications.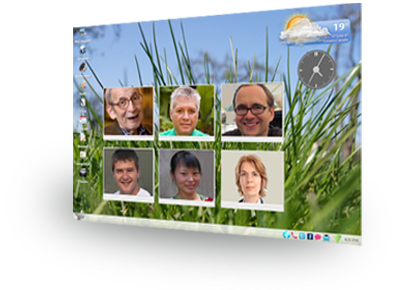 Synaptop makes sense.
Save time and money.
Improve efficiency and productivity.
Drastically reduce travel expenses!
Save on phone bills!
Why use Synaptop?
Intuitive user interface.
High quality audio and video communication.
Nothing to download or install.
No setup required! Just start using.
Host unlimited meetings when you want, where you want.
Lightweight — Works even on less sophisticated computers.
Cross-platform — Works on PCs, MACs, Linux/*nix, Android, Playbook, and other platforms.
Live sharing — Share content in real-time.
Multitask — Use multiple apps at the same time. You can share each app with people of your choice.
Privacy control— Selectively share apps and files you want to share. You can continue to work privately in other apps. Show/hide your face during meetings with one click.