Tweet
FOR IMMEDIATE RELEASE
Synaptop™ creates virtual movie night for Valentine's Day and Singles Awareness Day
SYNAPTOP GIVES PROMOTIONAL EXCLUSIVE PRICE
LOS ANGELES, CA February 6, 2015 –
Synaptop™ announces the ultimate date movie night!  Synaptop is bringing people together for a unique Valentine's Day movie night playing in Theatre™, a collaborative web-based video platform.  Synaptop Theatre™ lets users watch a movie with others in sync while video chatting or texting, providing real time entertainment and social interaction through virtual movie viewing.
Love is in the air and so is a great deal. Nowhere else this Valentine's Day can you get a date night for $1.49 a person.  The promotion starts Friday, February 6th through Valentine's weekend Sunday, February 15th on www.synaptop.com.  Users can bring in multiple contacts into the application via their social networks.
It is free to create an account, there is nothing to download or install, and all platforms are supported.  A popular destination for long distance relationship couples, military personnel, separated families/friends and so much more!
###
Synaptop's collaboration-enabled video technology, Theatre™, allows users to watch videos while interacting through video and text chat. Users can watch videos together on Synaptop, browse videos, pause, rewind, and even fast-forward, all in sync. To watch a movie with friends, users can easily drag and drop a contact into Theatre and contacts can follow along in real time, in sync.
To learn more about Synaptop, visit: http://www.synaptop.com
For more information, media contact:  Jane Iordakieva:  ijane @ synaptop.com
Check out photos and videos from the movie here!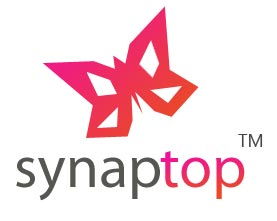 Synaptop's logo