Tweet
FOR IMMEDIATE RELEASE
Synaptop™ pitches video streaming application Theatre™ on Dragons' Den
SYNAPTOP SURPRISES THE DRAGONS WITH A SPECIAL GUEST
TORONTO, March 10, 2015 –
Synaptop™ announces the air date of the Synaptop Theatre™ pitch on CBC's Dragons' Den. On April 2, 2015 Synaptop's pitch will premiere on CBC. Watch Synaptop surprise an unsuspecting Dragon with guest on www.cbc.ca/dragonsden. Synaptop brings people together on the cloud and lets users watch movies together in sync. The Dragons join Synaptop in experiencing the power of collaborating together online.
Tune in at www.cbc.ca/dragonsden to watch the Synaptop team pitch Synaptop Theatre™ to the Dragons including a surprising guest. To participate in the online discussion, tweet using hashtag #cbcdragonsden and #synaptop. Log in and tell us what you think of Synaptop Theatre™! It is free to create an account, there is nothing to download or install, and all platforms are supported.  Synaptop Theatre™ lets users watch videos together in real time, in sync while video and text chatting at the same time! Users can bring friends from social media and create unique movie-viewing experiences online.
###
SYNAPTOP Synaptop's collaboration-enabled video technology, Theatre™, allows users to watch videos while interacting through video and text chat. Users can watch videos together on Synaptop, browse videos, pause, rewind, and even fast-forward, all in sync. To watch a movie with friends, users can easily drag and drop a contact into Theatre and contacts can follow along in real time, in sync.
To learn more about Synaptop, visit: http://www.synaptop.com
DRAGONS' DEN Launching a business is no small task. No matter how big an idea you think you have, it still takes a lot of work and a ton of cash. Enter the Dragons' Den, where aspiring entrepreneurs pitch their business concepts and products to a panel of Canadian business moguls who have the cash and the know-how to make it happen. They've all been there themselves, so you better not enter the Den unprepared. It takes more than passion to convince these boardroom barons that your idea is worth their investment. The Dragons are ruthless and rightly so – it's their own personal money on the line.
For more information, media contact:  Jane Iordakieva:  ijane @ synaptop.com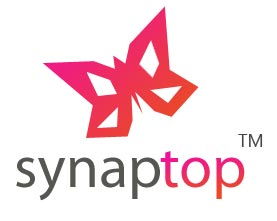 Synaptop's logo