Synaptop's Customer Service Solution
---
Synaptop's Customer Service solution is the ultimate online customer care solution that can enhance the way customers are assisted and give your company a competitive edge. For any business function that you execute daily with your customers, you can use the collaboration features of Synaptop to facilitate that function. Using Synaptop's Customer Service solution, your customer service representative can co-browse and guide customers through the various products and options your company offers quickly and efficiently, with higher conversions. Customer service representatives can even engage in video and text chats with your customers.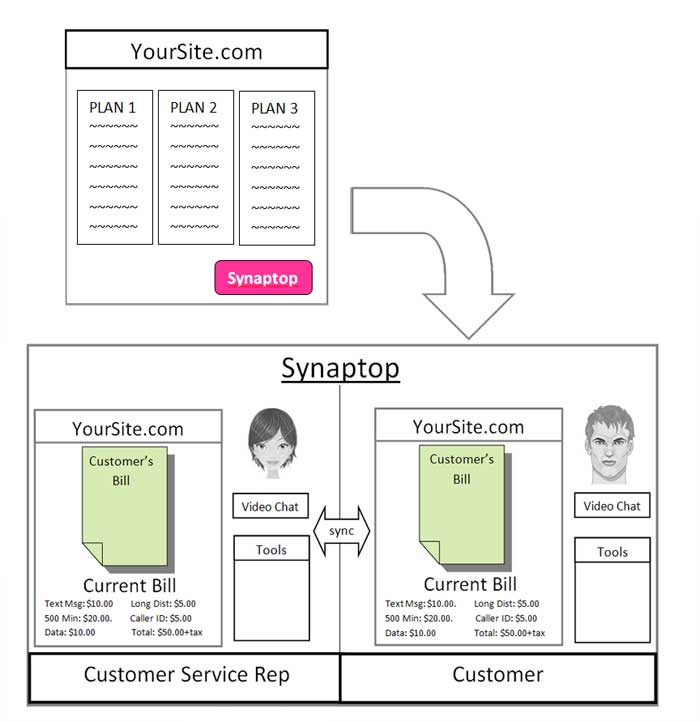 What does Synaptop's Customer Service solution enable?
Browse your website in real-time with your customers. View customer inquiries regarding products, promotions, packages, invoices, deals or any other information they may require.
Quickly assist customers in selecting the right products and services for them.
Quickly and clearly respond to billing enquiries by showing customers pages and sections as necessary.
Video chat with customers to provide exceptional personalized customer service.
Easily view and share documents with customers.
Display ads and company promotions providing a visual aid to customers as you talk with them.
Why use Synaptop?
Improve conversions as customers are shown the products they are looking for.
Customer service representatives a significant amount of time (over 50% of the length of a call) trying to understand the customer"s concerns and communicating a solution back to the customer. With Synaptop™, customer service representatives can quickly understand customers' concerns and serve customers faster saving you time and money!
Ensure clarity and avoid any confusion or errors in communication.
Increase productivity amongst employees.
Allow customers to have a visual on new deals/promotions as you update them.
Leading-edge technology gives your company a cometitive edge.
Reduce customer service calls as customers are shown how to use the site for future visits.
Enhance customer's experience adding a personal touch, and minimize confusion.
Features
View Synchronization. Works both ways. Both the customer service rep and the customer can "drive".
Video chat.
Text chat.
File sharing.
Privacy protection.
Nothing to download or install.
Cross-platform — Works on every internet enabled platform.
How to integrate Synaptop?
Easy integration options available.
Works with your existing website.